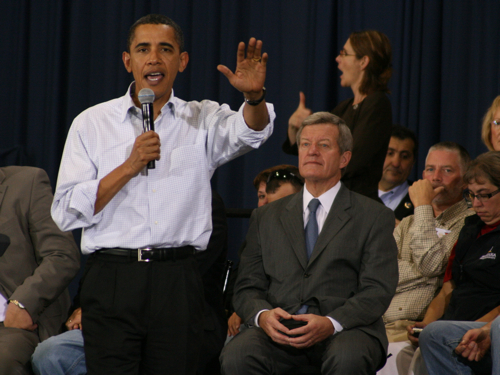 Huh?
U.S. Senator Max Baucus has finally broken his silence regarding his personal position on including a public option in health care reform legislation. Last Monday night (8/17), in an unprecedented conference call to Montana Democratic central committee chairs, the powerful leader of the Senate Finance Committee told his strongest supporters that he supported a public option.

While discussing the obstacles to getting a public option through the Senate, he assured his forty listeners, "I want a public option too!"

The conference call was groundbreaking in that none of the recipients could ever remember this kind of call ever happening before. The teleconference was set up seemingly in reaction to rising discontent among the local Democratic leaders with the Senator's failure to take a clear position on the issue.

The discussion, which became contentious and rancorous at times, also touched upon the wisdom of creating insurance cooperatives as an alternative to a public option. When several of the county chairs objected, commenting that they did not trust the health insurance companies to police themselves and limit their outrageous corporate profits, Baucus commented, "Neither do I."
If any of this is true, then why negotiate with a Blue Dog/GOP delegation that says they will never sign a bill with any "public option"?