Vick will play Thursday with the Eagles starters.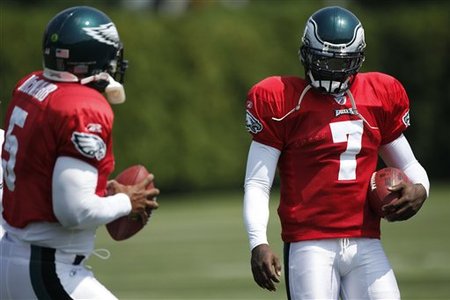 Donovan McNabb will play the first three quarters and Kevin Kolb will play the 4th. […] He also said he had no reservations about showing Vick in the Wildcat formation. I gotta say, Big Red looked downright giddy as he announced this. Should be interesting… via Vick to play with starters Thursday night – Bleeding Green Nation.
The local NAACP chapter has decided that making a reactionary spectacle outside the stadium prior to Vick's return is the best way to support black quarterbacks:
J. Whyatt Mondesire, president of the NAACP's Philadelphia chapter, said Wednesday that his group and others planned to rally outside Lincoln Financial Field in support of Vick.

"Just some folk walking around with some signs saying, 'Leave him alone, Michael Vick should be allowed to play football,' nothing elaborate. We heard some PETA (People for the Ethical Treatment of Animals) people might come and try to make life uncomfortable, and we don't want them to be out there alone."

via NAACP expected to rally for Vick during Thursday's Eagles debut – USATODAY.com.
Some football fans may recall that this is the same J. Whyatt Mondesire that wouldn't leave Donovan McNabb alone when he was down and out.